Let's talk about some podcasts, shall we? I started listening to podcasts about a year ago and now I am hooked. What is so great is, anyone and everyone can have a podcast and share their words with the world. I've thought about starting a podcast, but didn't want to overexpose myself being that I already have a blog and all. Totally kidding about that last part. Or am I?
Any who, I want to discuss a few podcasts that I strongly believe you all should give a listen. These are podcasts that sort of fulfill me in all aspects of my life and they are definitely worth a listen.
So let's get to it…
Panoptic Outré: hosted by John Jenzeh and Jeremy Recklein
I need to first state the following: you know when you see words written out and you pronounce them a certain way in your head and then someone finally says them out loud and you're like oh fuck that's how you say that? Yeah, that's what happened to me with this podcast's name.
I'd been saying it a certain way in my head before I started listening and then when I heard John say "Panoptic Outré" in one of the episodes my initial reaction was like, "Oh, that's embarrassing he doesn't even know how to correctly pronounce his own podcast's name." Then I laughed and laughed to myself and said, "Actually you are the one that doesn't know how to pronounce jack shit." Good story, hey?
In all seriousness, if you are looking for a podcast that discusses a wide range of topics from movies to porn to sports to life in general, this is something you will want to give a listen to.  John and Jeremy know their shit and deliver it a way that is comical, engaging and easy to follow along. I don't know a time when I am not in the mood for some Panoptic Outré. So obviously you should start listening too.
Give a listen and stalk the shit out of these guys: http://panopticoutre.com/
Money For the Rest of Us: hosted by David Stein
I recently developed an interest in investing money. I wish I had this strong interest when I failed finance in college and had to re-take the class, but I digress. So yeah money is cool and investing is even cooler (more cool?). Reading about how to invest your money, however, total snooze fest.
That's when I turned to the podcast world and stumbled upon this gem. And when I say gem, I mean David Stein is a life saver. I started listening to Money For the Rest of Us and everything just clicked for me. After listening to about 5 episodes I even contemplated quitting my job and heading to Wall Street. Then I came back down to earth and that feeling quickly faded away.
David Stein advised and managed assets for institutions and financial planners for nearly two decades. With this podcast he teaches people about money, how it works and how to invest it. Stein does a great job at explaining every aspect of money and does it in a way that's easy to understand and makes you want to keep learning more about the economy, money and how it all works.
So if David Stein could come out of retirement and become my personal financial planner that would be great.
Want to start listening? http://moneyfortherestofus.net/
Guys We Fucked: hosted by Krystyna Hutchinson and Corinne Fisher
This is hands down one of my favorite podcasts to listen to because this duo never disappoints. Being someone who is pretty open and free when it comes to sex, I was instantly intrigued when I heard about Guys We Fucked. It's an anti slut-shamming podcast where Krystyna and Corinne (both comics who started Sorry About Last Night) interview men they have slept with along with big names in the comedy world and sex industry.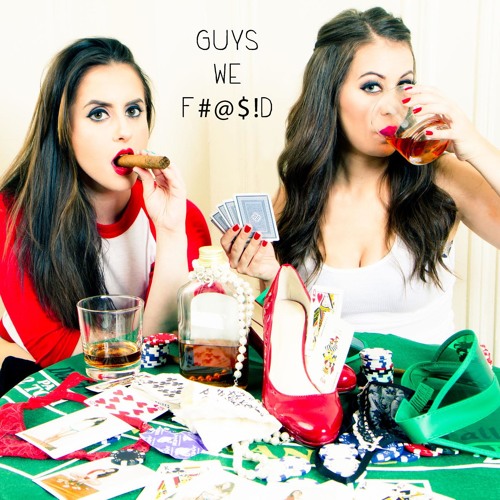 They consistently deliver laughs, banter, great topics of conversation and are very relatable. This podcast reaches a wide range of audiences and had a fan in me after the very first episode. If you are not listening, you should be.
Krystyna and Corinne are the type of women that you instantly want to be friends with and their humor is just what you need on any given day.
Grab a friend, significant other, your dog or whoever the fuck and give a listen: http://www.sorryaboutlastnightcomedy.com/guys-we-fucked/
**For those that started taking a shot for every time you read "podcasts" in this post, please do not get behind the wheel.
What are your thoughts? Do you listen to any of these? Please give me some suggestions of podcasts that I should listen to!