I want us all to do this together…take a deep breath in and slowly let it out. I said SLOWLY let it out. Now that we are all a little more relaxed, let's discuss the third presidential debate. A debate that was scarier to watch than most horror films.
October 19, 2016-The Third Presidential Debate:
If you were part of the millions tuning in just so you could see what came out of Trump's mouth, he did not leave you hanging. No sir, he sure did not. If you wanted Clinton to give you the "how" she was going to make a change on the more important issues at hand, she did just that. (I bet you can tell who I am voting for!)
The debate started off pretty subdued and then the attacks started flying by and cutting through. Trump hand delivered most of the attacks, including calling Clinton a "nasty woman" and stating "I will look at it at that time" when asked about conceding if he loses on November 8th. These comments have only dug deeper holes for Trump, who has been accused of sexually harassment by several women after his "locker room talk" tapes were leaked a couple of weeks ago.
The third presidential debate was a time for Trump to redeem himself and talk more about the issues at hand and that did not seem to be on his agenda last night.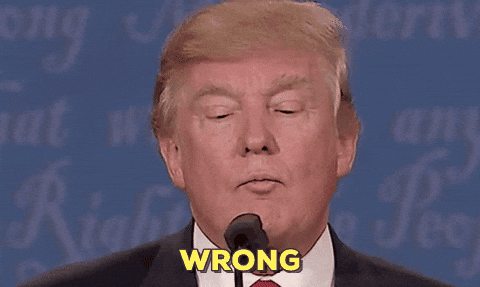 Clinton took the time to really expand and get more detailed as to what courses of action she was going to take on issues such as the economy, immigration and health care. She also made sure to hammer home why Trump is unfit to run this country.
My Opinion:  I was horrified, entertained, about to cry and laughing all within the 90 minutes of this debate. I didn't know if I should start hitting the bottle or if I should stay away for fear that I wouldn't be able to stop. This was hands down Clinton's best performance and although Trump's delivery was slightly more tactful, than the last debate, he still could not keep his mouth shut when it counted the most. I think that's very telling.
So with all this being said, may the best candidate win and by "best" I mean Hillary Clinton. See you all on November 8th!
What are your thoughts about last night's debate? What went right and what went terribly wrong?
Source: http://www.cnn.com/2016/10/19/politics/hillary-clinton-wins-third-presidential-debate-according-to-cnn-orc-poll/index.html